EJELS
Home  Indexing  Ethic Statement  Authors Guidelines  Publication Fee  Call for paper  Editorial Board Archive
European Journal of Economics, Law and Social Sciences (Austria) ISSN 2519-1284
Vol. 7 No. 2 - June 2023

This work is licensed under a Creative Commons Attribution 4.0 Unported License. 
European Journal of Economics, Law and Social Sciences (Austria) E-ISSN 2520-0429 / ISSN 2519-1284  Indexing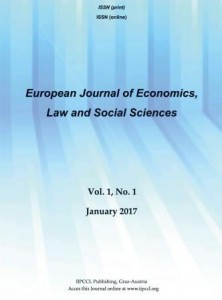 European Journal of Economics, Law and Social Sciences is an international peer-reviewed journal published in English two times a year (January and June) by International Institute for Private, Commercial and Competition Law based in Austria. Its multidisciplinary character invites researchers to become part of the competitive academic publishing world. EJELS aims to promote rapid communication and exchange between the World as well as other Research Scholars, Universities and academic institutions. It mainly reflects the latest advances being made in many disciplines of scientific research in universities and academic institutions. It addresses both theoretical and empirical issues in the fields of economics, law, management, finance, social sciences and other related areas. Welcome to EJELS, which welcomes and acknowledges only high quality empirical and theoretical research papers, case studies, literature reviews and book reviews from researchers, academicians, practitioners, PhD students from all over the world. All manuscripts will be double blind peer reviewed by the members of the editorial board who are noted experts in the appropriate subject area. We are glad to announce that EJELS has been indexed in EBSCO, WorldCat, World Wide Science, Exlibris, ROAD and other significant Databases since 2017. Starting from March 2023, the issues of European Journal of Economics, Law and Social Sciences will be published by Sciendo – De Gruyter owned by German renowned publishing House De Gruyter. De Gruyter has been publishing academic literature since 1749 and is part of Sense Ranking of Academic Publishers.
You can find the articles on their Sciendo-De Gruyter platform:
https://sciendo.com/journal/EJELS
The articles are included on this platform for indexing purposes.
Vol. 8 No. 1:
All articles should be sent until 31-st of December 2023.
The edition will be published in January 2024.
Contact e-mail:

ejels.journal@iipccl.org
Periodicity
EJELS is published two times a year by IIPCCL based in Austria. Issues will be published in January and June.
Deadlines
The call for paper process is ongoing.  You can submit your manuscripts to ejels.journal@iipccl.org. However the following deadlines can be used for submissions:
31 December for the January Issue
31 May for the June issue.
30 September for the October issue.
Peer Review Process
All received manuscripts will be submitted to a double blind peer review process. The reviewing process may take 4-5 weeks.
Open Access Policy
This journal provides immediate open access to its content.
Publisher
International Institute for Private, Commercial and Competition Law – Austria
Contact
Contact e-mail:  ejels.journal@iipccl.org